Robbery Bob (formerly known as Robbery Bob: Man of Steal) is the first Robbery Bob series game which is an adventure arcade video game developed by Level Eight AB and published by Chillingo for iOS and Android. A sequel known as Robbery Bob 2: Double Trouble was released on June 4, 2015.
Robbery Bob

Logo

Developer:

Level Eight AB

Genre:

Arcade, Adventure

Platforms:

iOS, Android, PC

Release date:

2012

Current version:

1.8.0
Game icon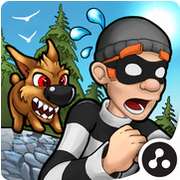 Order of events
Bob was freed from jail from sam who deals with Bob to get and steal money because he had a deal. Bob robs houses and in the last second-to-last level of Suburbs, Sam abandons Bob and traps him in a high-security mansion, but Bob is able to escape. After escaping, Bob tricks the police into imprisoning Sam while Bob gets away with all the loot he robbed for him.
After escaping, Bob travels to the Downtown area. Shortly after getting there, he is forced to work for Biff, one of the local criminals after ruining Biff's ice cream. Bob goes on a robbing spree across the town, stealing everything from money to video games. When Bob sneaks into the DA's office and steals the incriminating evidence that is going to be used against Biff, Biff decides not to let Bob go and instead use him to get rich. Bob, however, sneaks into Biff's apartment and steals a variety of things (most notably a big pile o' cash found in Biff's bedroom) before running away with most of the things he stole for Biff.
Bob travels to a remote desert in an attempt to escape further trouble but is captured by Dr. Thievious, a mad professor who uses Bob as his new "lab rat" to steal things from the Science facility that he needs for his latest invention, an Orbital Mind Control laser. Bob steals a lot of important parts and access codes but Dr. Thievious accidentally leads Bob to a secret exit which Bob uses to escape to the upper levels. After that Bob, while looking for the exit, accidentally triggers the facility's self-destruct mechanism. Bob is able to escape alive but the resulting explosion blew Dr. Thievious away and destroys the whole facility. Seeing flight from crime as useless, Bob decides to continue as a small-time robber, using his newly-sharpened skills.
Game characters
Main
Others
Bugs and Glitches
See Bugs and Glitches.
External links
Community content is available under
CC-BY-SA
unless otherwise noted.